On Aug 14th 2010 the Freehold Regional High School had it's 50th reunion. Betty lou (Perchalski) Larocca and Patti (Yapps) Cucchiara did a great job organizing a wonderful weekend. The weekend started on Friday evening with a pizza party at Federici's where about 60 people mingled and talked until nearly 11 o'clock.

Saturday morning had us at the high school where we were given a tour by a board of education member. The school, pretty much, looks the same as I remember with some additions and changes. There's a new library, gym extension, culinary school and a couple of new hallways.

On Saturday evening, we had cocktails and hors d'oeuvres and a short visit by Elvis. Afterwards was dinner and dancing until 11 o'clock. The DJ played many of the oldies from our time and did a great job.

I took a bunch of photos, but wasn't able to get everyone, though I tried (sorry). And, some of them are very poor quality and/or out of focus.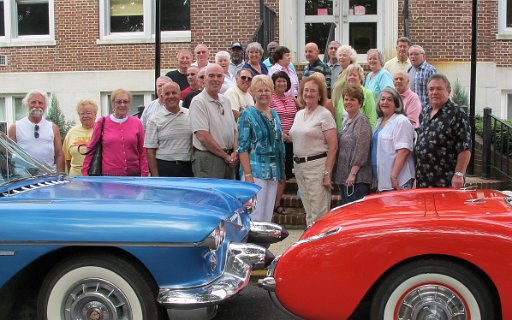 Click here to see photos
(Best viewed 'Full Screen')

The following are those who are missing from my photos:

Accisano, Frank
Anderson, Carol
Bailey, Bill
Clayton, Wayne
Conover, Kevin
Cuddihy, Barbara
Druesne, Barry
Hankins, James
Harwood, Janet
Hochberg, Bernard
Libby, Harlan
Peace, Gladys
Pellett, Genevieve
Rocco, John
Ruda, Sandy
Spezzano, Anita
Zackowitz, Cecile


The following had signed up, but were not able to attend:


Carroll, Jim

Lathrop, Charles
Prest, Al
Pretty, Harley
Seffler, Evelyn